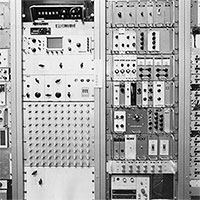 Theatre
1975: Kayn meets with director Wolfram Mehring (Théatre de la Mandragore, Paris) and discusses plans for scenic adaptations of Kayn's electronic music.
1978: The ensemble Theateraction at the Théatre de la Mandragore performs the scenic adaptation of Makro I as Cosmic Circus under the direction of Jo Roehrig at the HOT-Theater in The Hague, along with 25 performances at the Theater aan de haven.
1980: Im Rahmen der Veranstaltungen zur Ausstellung "Für Augen und Ohren" der Berliner Akademie der Künste bringt das Ensemble "Theateraction" MAKRO/COSMIC CIRCUS zur deutschen – und beim Festival in Orleans zur französischen Erstaufführung.
1981: The Studio Teatr in the Palace of Culture in Warsaw gives five performances of Cosmic Circus at the Warsaw Autumn Festival.
TV
Kayn participates in a television documentary produced by the NDR Hamburg in Rome about the Gruppo Nuova Consonanza.
Radio
Kayn is commissioned by Radio Hilversum to design a four-part radiophonic project for their Komponist + Radio series (Versuch eines Musik-Atlas).